 Five months after last sharing its progress on Windows 8, Microsoft took the stage at Barcelona's Mobile World Congress to reveal what had changed, what had been added, and what had been taken away in its radical new operating system for desktops and tablets.
Microsoft's President of Windows Division Steven Sinofsky was the main presenter in Barcelona, reporting that over 100,000 code changes had been made since
the Developer's Preview arrived in September
(per Engadget). Among the new features: A built-in music and video store for rentals and downloads (
via AllThingsD
); an improved interface that earned the praise of "
slick
" and "
fluid
" from those in attendance; an updated task manager; and better accuracy and functionality using a mouse and a keyboard.
As part of the presentation, Microsoft also announced that a "Consumer Preview" version of Windows 8 would become
available for download
for those who can't wait until the official release.
You can
download the Windows 8 Consumer Preview here
, though we'd only advise this for the technologically proficient. Be advised that if you want to go back to Windows 7 (or any previous operating system) afterwards, you'll need to reinstall from recovery or from the media that came with your PC.
Check out the screenshot (below) for Touchscreen Password To Unlock feature.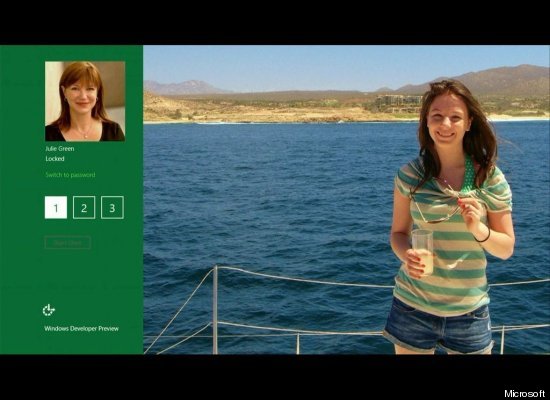 Touchscreen Password To Unlock
The Microsoft team showed off a neat new password system to unlock Windows 8 computers. When your computer is locked, normally you have to type in a text password to regain access to the system; Windows 8 gives the user an option to unlock via a combination of touches and swipes, which might sound familiar to Android users.
When setting up your password, you choose a picture, and you select where on the picture you want to tap and swipe in order to unlock the screen. For example, at the Windows Build conference, Windows Corporate Vice President Julie Larson-Green showed off her picture-password: a photo of her daughter (above) standing on a pier holding a glass of lemonade appeared, and Larson-Green tapped on her daughter's nose, then on the glass of lemonade, then drew a line from the edge of the pier to the edge of the glass of lemonade. Voila! The screen was unlocked.