The Blues midfielder was full of praise for the Spain international, who has joined Manchester United, but lauded the Brazilian after his free kick saw off Stoke in the FA Cup.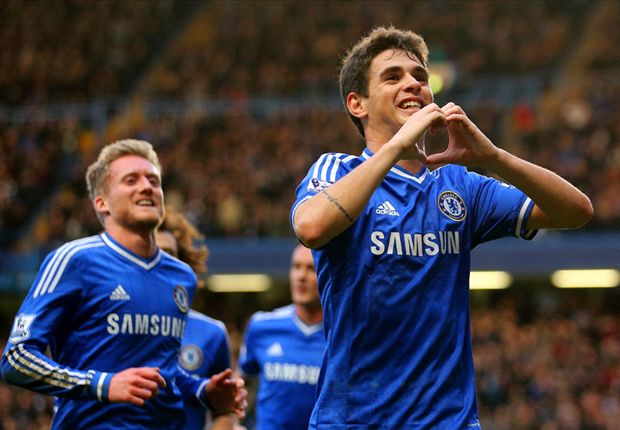 Frank Lampard believes the quality of Oscar and Chelsea's other attacking options made it difficult for Juan Mata to stay at Stamford Bridge.
Oscar scored the only goal of the game with a stunning strike as Chelsea beat Stoke to book an
FA Cup fifth round tie with Manchester City
on Sunday.
Lampard, who lauded Mata's ability, indicated the Brazilian's contribution this season gave Jose Mourinho little choice but to leave out the Spain international, before s
elling him to Manchester United for £37.1 million (€44.7m)
earlier this week.
"Juan Mata is an absolutely fantastic player, and more than that he is an absolutely great lad," Lampard told ITV. "[I] wish him all the best personally.
"The difficult thing here is that there are so many quality players and Oscar has been fantastic this year, as has [Eden] Hazard.
"Willian's shown that, and we've got so many riches in that position that it's difficult, but you need performances like that from Oscar today [Sunday]. That free kick was absolutely top drawer."
Lampard is anticipating a strong finish to the season, now that the squad has bought into the philosophy of returning boss Mourinho.
"There's a good feel around the place, [with] the manager coming back [it] took a little bit of time for him to get his points across, I think," he said.
"In the last couple of months we've been finding that little bit of mentality - that feeling in the dressing room - and we're going out there with more confidence.
"We have to keep that up - the minute you drop that, the results will turn - so we have to make sure we keep at it and carry on this form."
Source:
Goal
Share this post with your friends and also feel free to add your comments below.

If you like what we post here, and you want more... Add us to your Circles, like our Facebook Page, Follow us on Twitter, follow us on google friend connect, or Subscribe to our RSS feed for our latest posts. Download our Toolbar and get all the latest posts from your browser.