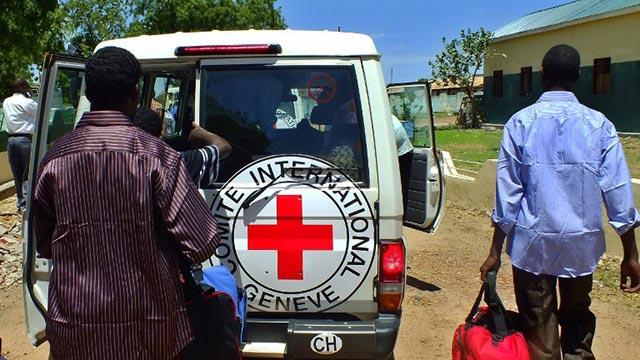 photo credits: www.rappler.com
The International Committee of the Red Cross says Sudan's government has ordered it to suspend its activities in the country. 'Technical issues' have been cited.
The relief organization said on Saturday it had been ordered to stop work in Sudan.
"We have received an official letter from the HAC (Humanitarian Aid Commission) informing us to suspend our activities with effect from today," said the ICRC's spokesman for Sudan, Rafiullah Qureshi.
"Our activities are suspended," Qureshi added.
The Red Cross has asked Sudan's Foreign Affairs Ministry and the Humanitarian Aid Commission for a meeting to discuss the suspension.
Qureshi said that the ICRC's roughly 700 local and international staff will still go to their offices while discussions take place over coming days with the relevant government agencies.
The aim is "to resume our activities as soon as possible in favour of the victims of armed conflict," Qureshi said.
Another spokesman, Adel Sherif, said reasons for the suspension related to 'technical issues' surrounding the implementation of the organization's work this year.
According to its website, the ICRC provides humanitarian assistance to over a million people in Sudan, including medical supplies and food in the war-torn Darfur region, where the organization, as a neutral intermediary, facilitated the handover and repatriation of numerous prisoners held by various groups.
The UN says half of Sudan's 19 states are affected by conflict and more than six million people are in need of humanitarian assistance. The suspension of the ICRC's work comes days after president Omar Hassan al-Bashir appealed for a "renaissance" in his country.
Sudan lost many active oilfields following the secession of South Sudan in 2011, and resulting oil revenues, the main source of government income. Subsidy cuts and other measures brought in last year led to deadly street protests.
Source:
allAfrica
Share this post with your friends and also feel free to add your comments below.

If you like what we post here, and you want more... Add us to your Circles, like our Facebook Page, Follow us on Twitter, follow us on google friend connect, or Subscribe to our RSS feed for our latest posts. Download our Toolbar and get all the latest posts from your browser.